How I Became a Hip-Hop Manager
(a mostly true story by Joe J Thomas)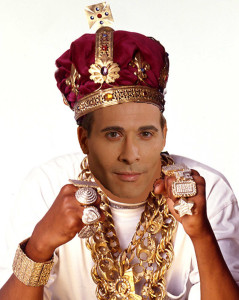 I'm the manager of the biggest star in hip-hop. It's not like I planned it. It just sort of happened. Let me start at the beginning…
I was on my way to Hollywood to see some friends perform Improv and standup comedy. I knew the name of the place, and that it was at Hollywood and Vine, but I'd never been there in person.

Drove over, dropped off the car at the valet parking and walked in the general direction of the club.
I strolled right past it.
It was a simple mistake. After all, I was about 15 minutes early and my mind was elsewhere.
So, when I saw a line of people waiting to get into a club, I naturally gravitated there. A huge well-dressed gold-clad bouncer motioned to the other side of the ropes. I strode over, waiting patiently with the others.
Everyone seemed pretty decked out. Not what I expected at all. I was wearing a vintage Pan-Am T-shirt, jeans, black New Balance shoes, and sporting a close-cropped haircut with an earring.
I must have looked "ok" because the bouncer guy motioned me forward through the ropes and muttered "you're good – go on in"
That's when I met the two fashion girls with their list of names. Wow! This must be a better club than I thought! So, I told them the name of the guy I was here to see. They asked if I was his manager. I told them I'd played with the group. Then I gave them my name. Nada. Not on the list. But after looking me over, they also decided I was "ok" and said "you can head upstairs."
Up I went… and within seconds it was clear I was not in the right club. There were posters touting famous hip-hop bands, people smoking, uh, something, and everyone looked more in vogue than me. Plus, I was probably the only non-tattooed white guy there.
But rather than turn back, I decided to play it semi-cool and press forward.
I wound up in a side room off of the main lounge where there were smaller groups that had broken away to discuss business. There was an East Indian guy in a heated argument with a smaller, mousy looking white guy. I didn't know it at the time, but the Indian was the hottest hip-hop artist of the year – DJ Mocha Tea aka DJMT.
The next thing I knew, DJMT turns to me and says "I bet you could be a better manager than this weaselly little dipshit!"
So, feeling the gauntlet had been thrown down, I stepped up and introduced myself "Joe J Thomas – but my friends call me Joe Actor".
"Huh. Joe Actor – what's that supposed to mean?", DJMT threw back at me.
"Well", I searched for the next word, "It comes from the fact that I take ACTION! I am an ACTOR!"
By this time the mousy guy had faded into the gathering group of onlookers, eager to see how this would all pan out. To tell you the truth, I wasn't sure myself.
But a few drinks, 17 contracts and a handshake later, I was managing DJMT.
If you wanna know the rest of the story, you'll have to wait until next month, when my book hits the stands.
It's awesome… and mostly true.
All content written and voiced by Joe J Thomas online at: JoeActor.com