Chicken Boy!
The year was 1987…
The Harmonic Convergence was upon us…
And a movie about a chicken-headed boy who sang like Elvis was being shot in Columbus, Ohio.
I should know – I was an extra in "Chicken Boy: The Movie"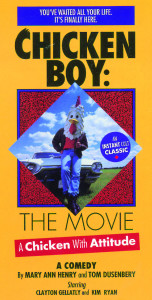 It was pretty exciting! There was the filming, accordion playing, the Chicken Mobile, and a red carpet premier with local news coverage!
And somehow, all these years later, I ended up only a few miles away from the real Chicken Boy here in Los Angeles.
But that's not where Chicken Boy, aka "The Statue of Liberty of LA" began.
On the 1960's, the Chicken Boy statue set atop a fried chicken restaurant in LA, and stayed roosted there until the early eighties when the restaurant closed and the building was being repurposed. As luck would have it, that's when Amy Inouye found the big guy and decided to save him.
Along the way to his new home many years later, there was a catalog of products, a movie made, and a lot of storage. Eventually in 2007, Chicken Boy was placed on the roof of the Future Studio Design & Gallery on Historic Route 66. (That's Amy's studio BTW)
You can still buy the movie and memorabilia at the online Chicken Boy Shop.
You can also visit the real McCoy by stopping by the gallery. There's even an upcoming show in March!

Now, I've posted stories before about Rainbow Chicken Curtains, The Chicken Measuring Standard, and even a spinoff about a Homicidal Turkey…
But it's like they always say:
You never forget your first Chicken Boy.
(click here for the full Chicken Boy story on his site)
All content written and voiced by Joe J Thomas online at: JoeActor.com