DREAMNASIUM: Red/Shift
PENDANT PRODUCTIONS PROUDLY PRESENTS: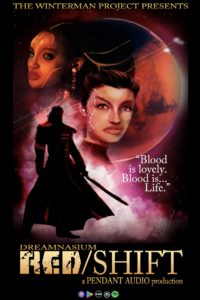 "Dreamnasium" is an anthology show adapting the short stories of Geoffrey Thorne, full of sci-fi, fantasy, mystery and intrigue!.
(listen to parts 1 and 2 below…)
DREAMNASIUM, episode 5 – "Red/Shift" part 1
A serial killer is moving through the Aresian night, but someone's tracking his every move!

Dreamnasium05RedShift1master
Transcript available at pendantaudio.com (click here).
Release Date: August 19, 2019 Run Time: 25:04
DREAMNASIUM, episode 6 – "Red/Shift" part 2
Red and Amina engage in a battle of wits, as Elzin closes in on her target!

Dreamnasium06RedShift2master
Transcript available at pendantaudio.com (click here).
Release Date: August 26, 2019 Run Time: 26:22
---
Also Available on (clicky-clicky):
Apple Podcasts/iTunes
Spotify
Google Play
Stitcher
Pendant Podcast feed (xml)
Pendant Show Page (Dreamnasium)
Featuring the voice talents of:
Channe Nolen as Amina Fisk-Okker
Joe J. Thomas as Red
Kristen Bays as Gio
Pete Milan as Breminsky
Darian Lindle as Cynda
Barbra Dillon as the Computer Voice and the Tube Announcer
Kathryn Pryde as Elzin
Jessie Moore as Ocelano
Jack Calk as the Server
Philip Weber as Liam the Hologram
Marte Brengle as Kwai
Perry Whittle as the Bravo
and Melissa Autumn Hearne as The Muse
Written by Jeffrey & Susan Bridges, based on the original short story
"Red/Shift" by Geoffrey Thorne
Dreamnasium theme by Vincent Morrison
All other music by Josh Molen at TheTunePeddler.com
Directed by Landon Beall (part 1)
Directed by Kathryn Pryde (part 2)
Produced by Pendant Productions
Executive Producers Jeffrey & Susan Bridges
This Production is copyright 2019 Geoffrey Thorne and Pendant Productions
Where to find Pendant Audio (more clicky-clicky):
Pendant Audio (main site)
Pendant on Yahoo
Pendant on Twitter
Pendant on Facebook
Pendant on Tumblr
Pendant on YouTube
Thanks for listening!