… the ALL NEW:
Joe's Dump Store!
…is having it's first ever
Semi-Biannual Memorial Day SALE!!!
Read on to get in on these great deals TODAY!!!

The Joe's Dump "Trava-Booth":


If you need a sound-proof environment while recording, then the "Trava-Booth" is for you! Guaranteed to eliminate all noise and all visual distractions! You won't hear a thing – Guaranteed! Just put this over your head, shove a microphone in either side and start recording! Guaranteed!
(microphones sold separately – see below ;-))
The Joe's Dump "I-Can-VO" Microphone: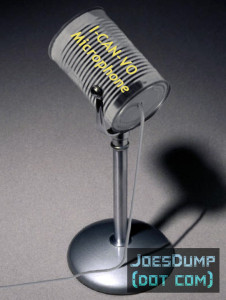 Finally! A cheap, low-cost, low-quality microphone for the masses! Meet the "I-Can-VO" mike! Solidly built to last for several weeks, this will soon become your mike of choice when you can't find any others! Finally!
The Joe's Dump "I-Can-VO-mini" Microphone: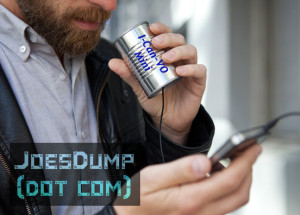 On the road, and want to take your "I-Can-VO" mike with you, but just don't have the room? No problem! Say "Yo!" to the "I-Can-VO-mini" microphone! The small size and flimsy construction make it the perfect travel companion! Why worry about losing an expensive mike when you can lose the "I-Can-VO-mini" instead? Yo!
The Joe's Dump "Personal Head Monitors":


Everyone in the recording industry will tell you how important it is to own a pair of quality monitors! But what they don't tell you is how they should be mounted to your head! Joe's Dump Labs created the "Personal Head Monitors" for just this purpose! These babies will capture ambient noise from the very air around you and channel it directly into your head! How? Science! That's how! Act now and get a free DVD of neck-strengthening exercises absolutely FREE! (just pay shipping, handling and medical waiver fees)
… and our very own "Buzzketing" Expert, Joe Backbehinder's New Book: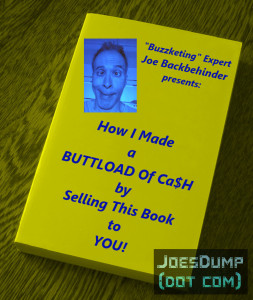 "Buzzketing" (Buzzword Marketing) expert Joe Backbehinder is at it again! This time, it's a book! Hand-crafted and specifically designed for reading, perusing, or sitting on your favorite coffee table! Plus, it automatically rewinds to the beginning every time you close it! Whoa!
Plus!
Coming Soon – Give us your money and we'll give you our "Nearly-Free-For-A-Fee":
The "Amazing Podcast Instructional Everything-You-Need-To-Know-To-VO Show" limited edition 78 disk collector's series box set!!!
Notes:
(products not real)
(please allow 4 weeks to infinity for delivery)
(contents may have shifted during shipment)
(not valid in any state, county, country or planet)
(see in-store flyer for details)
(no brick-and-mortar stores currently available)
… special thanks to this real product:
The Ostrich Pillow
Bonus Video!
Joe Backbehinder's original "Buzzketing" seminar:

All content written and voiced by Joe J Thomas online at: JoeActor.com