New Wife!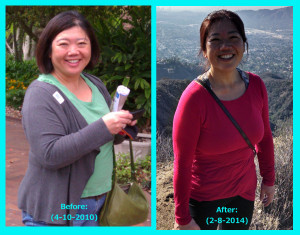 Over the past 3+ years, my wife has made an amazing transformation. Several amazing transformations actually.
She's dropped at least 50 pounds, lowered her blood pressure, adapted to a healthier diet, and taken up yoga and hiking with a passion. Yeah, passion – that's the word for it!

There have been so many changes that I will periodically ask her "Who are you? And what have you done with my wife?"
Of course, I've had to change to keep up. Lost 10 pounds, shaved my head (not her doing), and even do some hiking (and occasionally yoga).
My wife's story is far too amazing to be contained here. In fact, she's been published in a health magazine called "Elephant Journal". You can read the whole astounding, seen-it-with-my-own-eyes story here:
I Didn't Care About Yoga, Until It Changed My Life
(did I mention she can do a hand stand?)
… and yes… I am a lucky doggie.
Joe
All content written and voiced by Joe J Thomas online at: JoeActor.com