Sillyam Fakespeare
Yea, verily! Tis time for some newly minted sayings by the immortal bard's third cousin, thrice removed…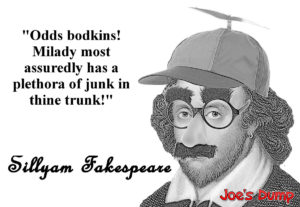 Odds bodkins! Milady most assuredly has a plethora of junk in thine trunk!

Seldom is a man so forlorn than when he seest the folly of battling with a woman.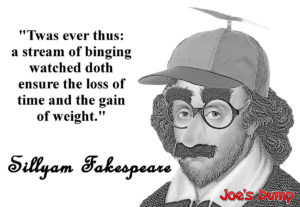 Twas ever thus: a stream of binging watched doth ensure the loss of time and the gain of weight.

Gaze upon mine countenance! Speak to me of thy double-decaf half-caf latte mochachino and allow me to imbibe!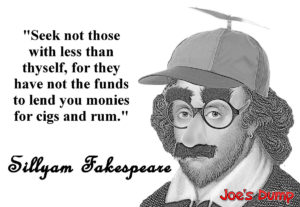 Seek not those with less than thyself, for they have not the funds to lend you monies for cigs and rum.

When once you run, but know not from what, then soon shalt thou know the madness of marathon.

Zip! Zam! Zowie! Kazam! Mine funds give way to slick men of sales with products of Zee.

For what is identity but a collection of cards and numbers? So easily thieved by plunderers on the line.

What good can come of this important missive from a Prince of far Nigeria? What promise the future holds for me!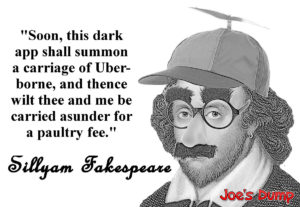 Soon, this dark app shall summon a carriage of Uber-borne, and thence wilt thee and me be carried asunder for a paultry fee.
All content written and voiced by Joe J Thomas online at: JoeActor.com