I Can't Turn This Light Off!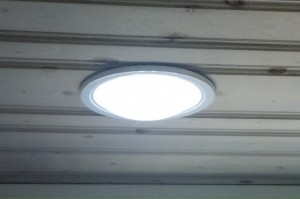 The photo above is of a new Solar Tube Skylight we just had installed in our house. It is really amazing and brings a lot of natural light into the room. The only problem is that it looks so much like a light fixture that I keep looking for the "off" switch!
Granted, it's not really "on" all the time, even though the source of light (the sun) is always shining. Natural things like clouds, trees, birds, and of course nightfall affect how much light really shines through. Man-made items like buildings and aircraft also block the light.
The Light Inside
This all got me thinking about another equally important light… the light that shines within each of us. Like the sun, it too is always on, but can be obscured. Natural things like our mood, life events, self-doubt, and even the weather can make our light seem dim at times. External factors such as unkind words from others, negative work places, accidents, and financial issues also have an impact on how bright our light shines. Continue reading →