The Incredible BellyMan!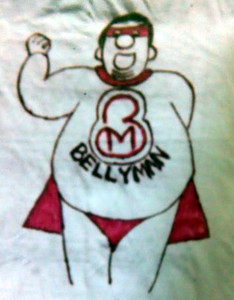 written and drawn by Rich Stimac
voiced by Joe J Thomas
Often I'm asked (and by often, I mean never) "Hey Joe! What was your first voice over?"
Funny you should bring that up!
When I was younger, I was fat. No, not "pleasingly plump", or "gravity challenged", just fat. Back then, it was ok to be called that, before all the Politically Correct nonsense took over… but I'll save that for another post! 😉

A friend of mine, Rich Stimac, started calling me "BellyMan", and the moniker stuck like a double bacon cheeseburger to my chubby little hands. He even drew a series of comic books featuring the flabby hero from another planet, with weight and momentum far beyond that of normal human beings!
I recorded the first issue of that comic book when I was still a teen. My very first recorded recording. It was done on an olde, broken-down, boom box cassette recorder (you can even hear the clicks and whirs on the recording).
Fast forward to today… I've digitized both the comic book and recording and plopped it on YouTube for all to see:

I hope you enjoy this time-machine trip into my odd-tastic VO past.
What's your earliest recording?
If you're bold enough, why not post it in the comments?
I'd love to hear it!
Cheers,
Joe "BellyMan" Thomas