Henderson and Havner, episode 1 – "A Meeting of Minds"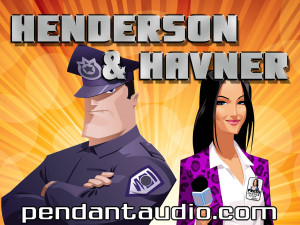 You may remember Henderson from earlier in the year. He's a hunky womanizing guy who spares no expense on his ego.
His day job is a police detective, and he's finally met his match in an alluring female reporter named Havner.
Listen to the premier episode of this exclusive eight part series from Pendant Productions:

Future Henderson and Havner episodes will be posted here on Joe's Dump in the coming weeks
For your continued amusement, here are prior "Henderson" episodes from Joe's Dump:
The Henderson Moment: Episode 1 – Personal Hygiene
Broses! Flowers for MEN! (Henderson episode 2)
… And here are the Pendant Productions release notes, cast and podcast links:
---
Henderson and Havner, episode 1!
PENDANT PRODUCTIONS PROUDLY PRESENTS:
Henderson and Havner, episode 1 – "A Meeting of Minds"
He's a cop, she's a reporter; they're both terrible at their jobs! Flat tires, angels, cakes and cars! Romeo and Juliet have nothing on these two.
"Henderson and Havner" is a full-cast, short-format audio comedy. Available for free download in .mp3 format, or as a Podcast!
Also available — a commentary track with the creators!
Download Links:

Henderson and Havner at Pendant Audio
Featuring the voice talents of:
Joe J. Thomas as Henderson
M Sieiro Garcia as Havner
Philip Weber as the announcer
Tom Stitzer as Chiefy
Carl Glassmeyer as the dirtbag
and Dan Sensenbach as the perp
Written and directed by Jeffrey and Susan Bridges
Scripts edited by Teresa Stacy
"Henderson and Havner" theme by Susan Bridges
"Laconic Granny" by Kevin MacLeod of incompetech.com
Executive Producer Jeffrey Bridges
Produced by Pendant Productions
"Henderson & Havner" created by Jeffrey and Susan Bridges
Thanks for listening!
http://www.pendantaudio.com
http://www.twitter.com/pendantweb
http://www.facebook.com/pendantaudio
http://pendantaudio.tumblr.com
http://groups.yahoo.com/group/pendant