Ban Ki-moon Tune!
Even an incomplete project can be a fertile testing grounds for growing new skills and fostering creativity. Here's just one recent example from Joe's Dump…
Ban Ki-moon, the Secretary General of the United Nations, didn't have a song!
I couldn't believe nobody had made one. Seemed like a shoe-in for a viral hit 😉
So, I created one for him – a parody of Herman's Hermits "I'm Into Something Good":

Ban Ki-moon Tune! (Joe J Thomas)
Sometimes my initial goal gets expanded and leads to a more complicated project.
This time, I though I'd make a music video featuring a cartoon version of Ban Ki-moon!
Ambitious considering my level as an animator and the limitations of the software.
In the end, the video never came together… but I did learn some very valuable techniques for future projects:

1) Face mapping for 3-d character
After doing some research on face mapping for Muvizu, I found a suitable photo to start with: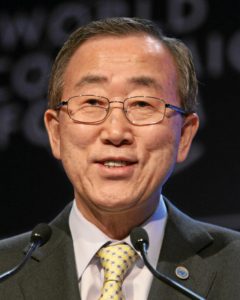 Using dark arcane secrets, lost for generations, I was able to steal his face and paste it onto a 3-d character!
Here's a front view: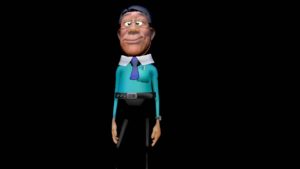 And a side view: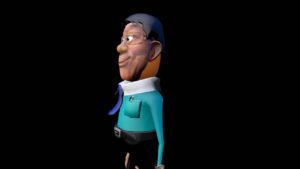 Now that I know how, it's not too hard for me to make custom mockeries of anyone 😉
2) Green screen for backgrounds
Green screen is a technique used in film in order to replace the background for a scene. In the animations software, they actually have a green screen set. I set it up with my character, and a couple cameras, along with face lighting:

Now I can place him anywhere! Here's a shot in front of the United Nations: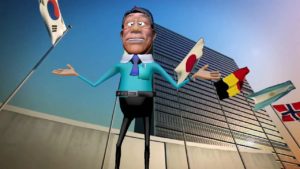 And one of him in his cluttered office: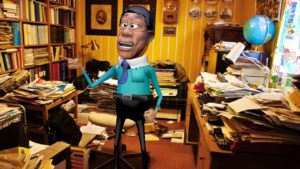 Learning to use green screen helps remove some of the limitations of the animation software. With the right image, my animations can appear anywhere. Even live video can be streamed behind them.
3) Auto-tune harmonies
You might have noticed the off-key robotic backup singers in the song. Well, they're actually my voice – just auto-tuned and forced into a bad harmony. Harumph! I guess if I ever want this to work right, I'm going to have to learn more… Or just use real singers!
Conclusion
Even though everything I'd imagined didn't come to pass, I'm in a much better position for the future. Sometimes what you get out of an incomplete project is new skills learned for things you haven't even thought of yet!
~~~ Lyrics ~~~
"My Name Is Ban Ki-moon!"
a parody of Herman's Hermits' "I'm Into Something Good"
written by Joe J Thomas

United Nations, I'm your guy!
Where there is trouble, I'm gonna fly.
And on the way I'll be singing this catchy tune, whoa yeah.
Don't you know that my name is Ban Ki-moon!
(don't you know that my name is Ban Ki-moon)
Resolutions we're gonna pass
That tell the world they can kiss our ass
If you're a problem, you know I'll be visiting soon, oh no.
(if you're a problem I'll be visiting soon)
You all better watch out for Ban Ki-moon!
(you all better watch out for Ban Ki-moon)
Iran, Iraq, and Afghanistan too.
I fly to Pakistan the whole night through
With everyone making nuclear bombs
I gotta keep the whole world nice and calm
(I gotta keep the whole world calm)
Lots of meetings, that's my style
Stacks of paper thrown into piles
Nothing gets done by me from July through June, uh-oh!
(nothing gets done from July through June)
All you need to know is I'm Ban Ki-moon!
(all you need to know is I'm Ban Ki, all you need to know is I'm Ban Ki)
…
Now that I've saved the human race
I'm gonna head out into space
UN is gonna have an embassy on the moon, woo-hoo!
(UN is gonna be on the moon)
Peace is gonna blast off with Ban Ki-moon!
(peace is gonna blast off with Ban Ki-moon)
Peace is gonna blast off with Ban Ki-moon!
(peace is gonna blast off with Ban Ki-moon)
Peace is gonna blast off with Ban Ki-moon!
(peace is gonna blast off with Ban Ki-moon)
Ban Ki-moon, oh yeah, Ban Ki-moon
(you all better watch out for Ban Ki-moon)
Ban Ki-moon, oh yeah, Ban Ki-moon
(you all better watch out for Ban Ki-moon)
Ban Ki-moon, oh yeah, Ban Ki-moon
(you all better watch out for Ban Ki-moon)
~~~ fin! ~~~
All content written and voiced by Joe J Thomas online at: JoeActor.com