Chicken Measuring
The "Metric System" never quite caught on in the U.S. of A. And the "Imperial System" with it's feet, yards and inches doesn't make much intuitive sense either. Seems like every time someone wants to measure something, they come up with a new standard. Every news story has some tie-in to measuring:
Announcer:
"Just how deep is the ocean, Professor Doctor Person?"
Professor:
"Well if you can imagine 3 Empire State Buildings stacked on top of each other…"

Well, I've never seen the Empire State Building, and even if I had, it's still just another tall building!
We humans need a standard of measurement that means something to all of us…
Enter "The Rubber Chicken Standard"!
I've chosen the Archie McPhee Deluxe Rubber Chicken as a new standard of measurement. The reason is simple: every culture knows what a chicken is, and a rubber chicken is easier to use because it won't spoil.
In the case of normal, everyday things, measuring is easy. I am 3.45 Rubber Chickens (rc) tall. My cat is 0.95 (rc) long. And my ceiling is 5 (rc) high.
For larger objects, we need a bigger Rubber Chicken. This is where the Kilo-Chicken (kc) comes in. It's the size of 1,000 Rubber Chickens: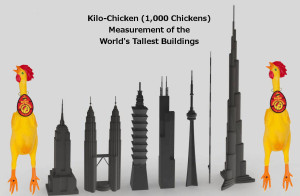 Similarly, smaller objects would need a tiny Rubber Chicken. For this, we have the Micro-Chicken (uc):

Larger and smaller measurements can be made with the Mega-Chicken and Nano-Chicken.
Here's a handy conversion tool so that you can see just how easy the "Rubber Chicken Standard" can be:

Length / Distance Converter
Unit converter for length
The Future!
With continued research into Rubber Chicken Physio-Dynamic-Expansion Technology, man may someday be able to measure interstellar distances using the Rubber Chicken Standard.
NASA has already taken the first steps by sending a Rubber Chicken into space (her name is "Camilla"):

Conclusion:
Pretty impressive!
I look forward to a future where genetically enhanced Rubber Chickens will be able to measure everything from Breakfast Cereals to Black Holes…
Sincerely,
Professor Doctor Person
(aka Joe)