Silent Computer
The time had come to have "The Talk" with my current computer system:
I don't know how to say this, so I'll just come out and say it: I've outgrown you.
You've gotten too slow and noisy, and I feel I can no longer rely on you.
Really… it's not you… no, wait… it is you!
Maybe it's best we just go our own ways.
And so, the hunt for a new computer began!
Requirements
What did I want?
1) Quiet – used in a recording environment, this would be wonderful.
2) Fast – needs to be responsive and not drop any bits while recording or editing.
3) Reasonable – not looking for bargain basement pricing, but must fit in the budget.
I had considered getting an Apple Mac Mini, and had looked at several brands of "Quiet PC" companies, yet all of them seemed to fall short on being reasonably priced.
I needed a friend's help – That's where Darnell Gadberry came in. (If you don't know Darnell, Check out his site here!)
A quick exchange on Facebook and I had a new suggestion: the "Intel NUC".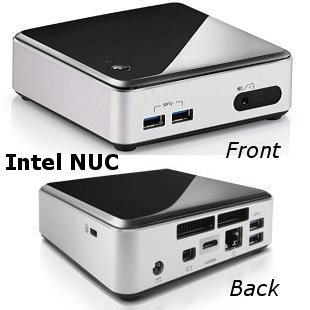 Since I hadn't heard of the NUC before, I did a little online digging. There's a lot of information out there. How-to articles and do-it-yourself videos. Yes… the Intel NUC would take a bit more effort to assemble. But when I completed it, I had a SILENT PC for under $1,000!!! Plus, it's tiny (only 4″ X 4″).
Parts List
Here are the components that I used:
($349.99) Intel NUC 54250WYK1 Intel Core i5 2.60gHz Intel HD Graphics 5000
($144.99) Crucial 16GB (2 x 8G) 204-Pin DDR3 SO-DIMM DDR3 Ram
($264.99) Crucial M550 512GB Mini-SATA SSD Hard Drive
($19.99) Intel 7260HMW Mini PCI Wireless/Bluetooth adapter
($29.99) Logitech K360 Wireless Keyboard
($51.76) Logitech T650 Wireless Touchpad
Total Hardware: $861.71
($99.99) Microsoft Windows 8.1 64-bit – OEM
Total with Windows: $961.70
Now, this doesn't include a monitor (I already had one), extra software or applicable tax and shipping… But DAMN! That's pretty sweet! (and it is)
Side note: I'm really digging the Logitech T650 Touchpad. It replaces the traditional mouse, and offers some great gesture controls for Windows 8.1. Since Windows 8.1 is sort of designed for touch screen computers, this eliminates the need to buy a new (and pricey) monitor. Recommended!
Please note: Some Assembly Required!
If you're not comfortable selecting and assembling computer components, then this might not be the best choice for you.
However, if you're willing to do the research and put in a bit of work, the results are astounding.
There are several base models of Intel NUC to choose from. Each has different features, processor, and expansion options. Once you select the base model, you'll need to get the rest of the components (memory, hard drive, etc). And finally, you'll need to choose and install the operating system and software.
Wrap It Up. I'll Take It!
Although I'm just starting the journey with my NUC, I believe this could be the start of a long, quiet relationship 😉
If you're game, or even just interested, Check out the full details of the Intel NUC on their site here!
P.S. When I opened up the box for the Intel NUC, it made this sound:

Intel NUC - Box Sound

- Intel
All content written and voiced by Joe J Thomas online at: JoeActor.com