VO and Tablets
Many voice actors take a tablet into the booth to read and markup their copy.
But what if you could run your entire studio on a tablet?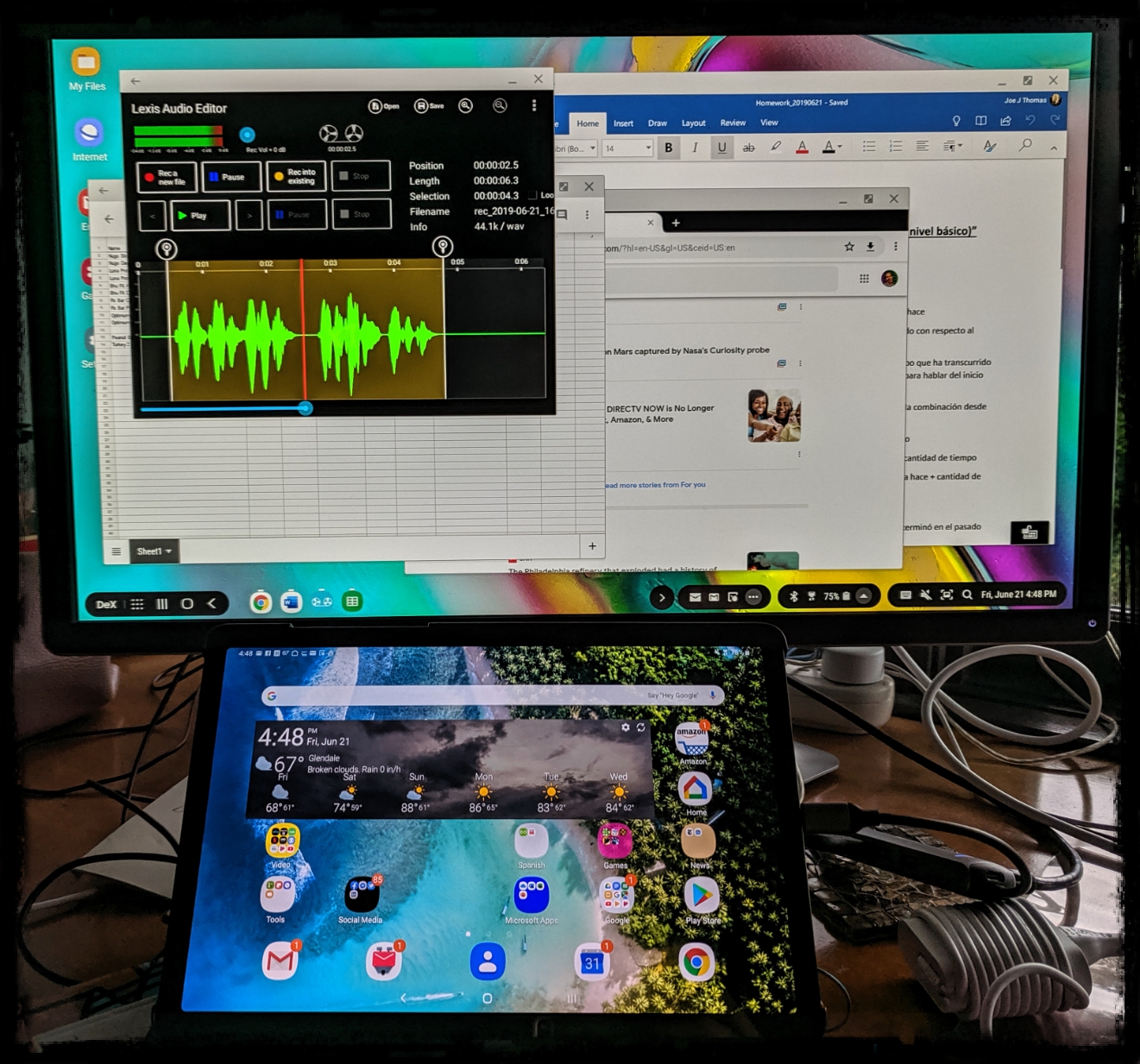 What you see in the above picture may be the future for home studios. At the bottom is a 10″ Android tablet. It's connected to the top screen, a mouse, keyboard, external drive, microphones interface, mic and speakers.
It could run everything you need for a home recording studio. And it costs around $400.
In this test, I was running a Chrome browser with two tabs, a Google spreadsheet, a Microsoft Word document, and Lexis audio recording/editing software. Recording quality was the same as on my laptop.
So, what exactly makes this possible?
The tablet is a Samsung Galaxy Tab S5e – here are the specs:
OS: Android 9.0.
Display: 10.5in WQXGA Super AMOLED, 287ppi.
Processor: Qualcomm Snapdragon 670 Octa-core processor (2×2.0 GHz & 6×1.7 GHz)
Memory: 4/6GB.
Storage: 64/128GB + microSD up to 512GB.
Cameras: 13Mp rear, 8Mp front.
Ports: USB3.1 (Type C)
Plus! Very thin and light: just 5.5 mm thick, and weighs only 399 g (0.88 lb)
The USB-C port is an OTG (On-The-Go) type. This means it allows USB devices, such as USB flash drives, digital cameras, mice or keyboards, to be attached. Also microphones and speakers and screens. No drivers to install, or software to update. All I did was plug in a USB-C hub and everything worked.
The processor has 8 cores, and is pretty fast. The new version of this tablet (the S5) is expected to be even faster.
Battery life is 14+ hours, but you can also have it plugged in while you're using it.
The final piece of the puzzle is the windows like interface on the big screen. That comes from Samsung. It's called "Dex", and is one of 4 modes on this tablet:
Normal Tablet Mode (one app takes up the whole screen)
Split-screen Mode (two apps share the screen equally)
Pop-up Mode (one app appears in a pop-up window; any second app appears behind it, full screen)
Dex Mode (full window and icon interface)
When you put all of this together, you can easily see the potential… and where we all may be headed.
I used the setup exclusively over the weekend, just to see how easy it was. It's definitely good enough for auditions, or for the central component of a travel rig. To run a full home studio, I'd probably want better recording/editing software available. It may already be out there…
All content written and voiced by Joe J Thomas online at: JoeActor.com