The Path of the (Yodeling) Pickle
*** Updated June 4, 2018: The Pickle on The McPhee Podcast! ***
*** UPDATED 4/30/2018 STEPHEN FRY TWEET! (at the bottom) ***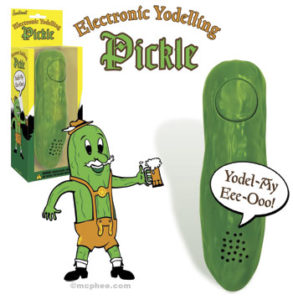 Joe's Yodel (Joe J Thomas)
How did learning to yodel lead to Weird Al, George Takei, The Today Show and Gorillaz?
It all began in 2006, with a contest by the Seattle novelty company Archie McPhee.
They were searching for a yodel.
I was a singer, but had never yodeled. So I consulted the internet and found YodelCourse.org
After some free lessons, I submitted my contest entry and forgot about it.
… until 100 rubber chickens showed up on my doorstep!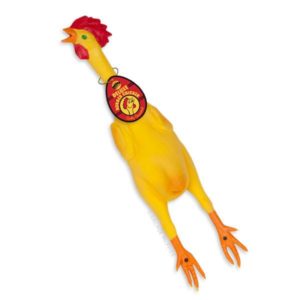 I'd won the contest, and the prize was 100 rubber chickens, plus my yodel in a toy.
Now, the first toy (Feb, 2007) was not the Yodeling Pickle, but instead was the "Remote Control Hopping Yodeling Lederhosen" (with a knockwurst remote, of course):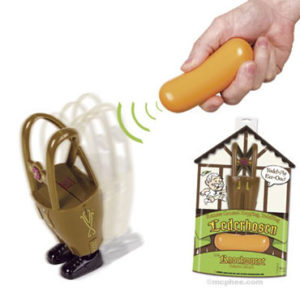 Then in April of 2007 came the now famous "Yodeling Pickle":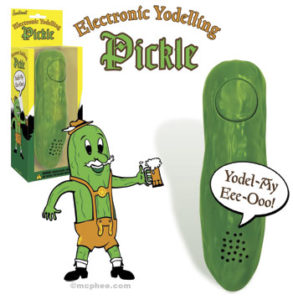 In December of 2008, the Today Show with Cathy Lee and Hoda reviewed the pickle: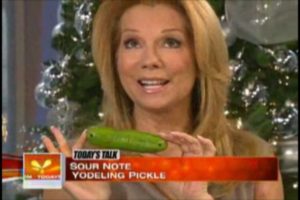 Kathy Lee Gifford sang with it and said "Nothin' beats the Singin' Pickle!"
Sales of the Yodeling Pickle were great, and soon they came out with other yodeling products (more on those below).
On December 26, 2010, the Grammy winning band "Gorillaz" album "The Fall" featured the yodel on track 15: "Seattle Yodel":

You can download the whole album for free at: Gorillaz – The Fall (at Archive.Org)

On August 5, 2011, Archie McPhee released their own video of the track:

On March 26, 2013: Archie McPhee announced "International Yodeling Pickle Day"!!!
On May 22, 2013: George Takei posted his comedic review of the Yodeling Pickle on Amazon: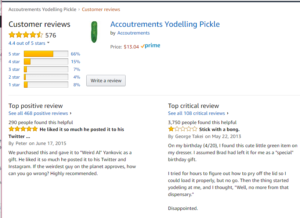 And on June 17, 2015: Weird Al Yankovic tweeted this (along with a review on Amazon)
"You can have my electronic yodeling pickle WHEN YOU PRY IT FROM MY COLD, DEAD FINGERS."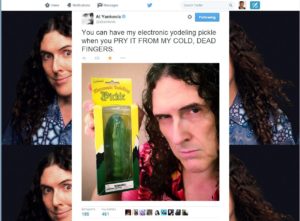 On June 2, 2017: Gizmodo posted an article on Gorillaz and the Seattle Yodel Track:

On July 16, 2017, George Takei included the Yodeling Pickle in a video review from Knowable:
And on April 30, 2018: Stephen Fry tweeted:

"I don't know what a Yodelling Pickle is, all I know is that I want one. And in an instant absolute and foot-stamping Veruca Salt kind of way"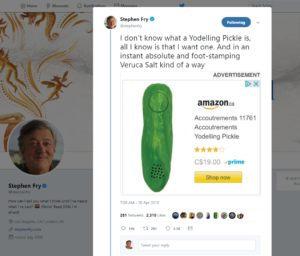 New! June 4, 2018: The Pickle on The McPhee Podcast!
Archie McPhee – PODCAST EP 6: THE YODELLING PICKLE AND THE GORILLA(Z)

Other Yodeling products from Archie McPhee:
Gerkin for a living,
Joe "Yodelling Pickle" Thomas
All content written and voiced by Joe J Thomas online at: JoeActor.com