Zuzubaland!
I'm a Hot Dog… And I finally got to play a Hot Dog too!
Zuzubaland (official site) began as a children's book in Brazil.
The author, Mariana Caltabiano, then turned it into a cartoon series for Latin American TV, and it was dubbed into English at Bang Zoom! Studios.
The story revolves around a bee named "Zuzu" and her friends in a kingdom of food. Every episode is a fun little adventure (there's even a witch and her hench-spider!).
Here's a sample episode from YouTube named "Food House" (I'm the Announcer and Hot Dog):

Zuzubaland's official YouTube page, and all the episodes so far are here:
Zuzubaland! (YouTube Page)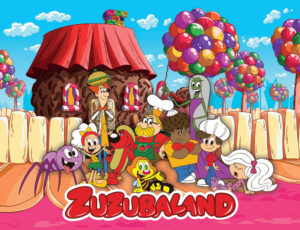 The show and characters were a ton of fun to record. I hope you enjoy watching… and really hope they make more 😉
Cheers,
Joe
All content written and voiced by Joe J Thomas online at: JoeActor.com