The Nothing
"The Nothing" is an unusual villain from the German fantasy book "The NeverEnding Story" (a film version was made in 1984)
(*** spoilers below ***)
I use the word "villain" in a loose way, as it's more of a force of nature. In the story, it is slowly destroying Fantasia, a land of wonder, imagination, and endless variety. In the movie version, "The Nothing" is represented by an ominous storm, and by a large black wolf: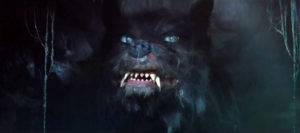 The book is not as concrete, but much more frightening in it's portrayal. "The Nothing" represents all of the worst of humankind. Apathy, cynicism, despair, and all the darkest aspects of our nature.
In the end, it's a boy's imagination and willingness to believe that saves Fantasia from "The Nothing".
The Nothing: It's At Work On Our World
Beyond the simple story lies a chilling truth: "The Nothing" is quite real. And it's been growing. We feed it by giving into our greed, anger, and small-mindedness. Where is it? How can we identify it? And what can be done to stop it? I've provided some examples below, and I'm sure once you see it too, you'll be able to find many more…