Doctor Who: Big Stompy Robots (part 2)
Afternoon Tea Adventures presents a brand new Doctor Who audio drama in 2 parts.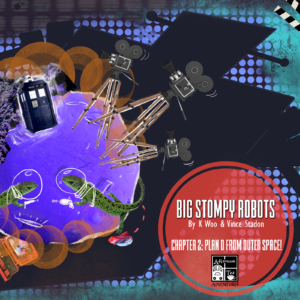 (if you missed part one, click here: Big Stompy Robots Part 1)
Listen to part two here:

More Afternoon Tea Adventures available on iTunes (click here)
Or on YouTube:
Afternoon Tea Adventures on YouTube
Doctor Who: Big Stompy Robots – A sci-fi romp.
Every week (or as broadcasting schedules permit) the fictional Xenos Coverage Crew from Star Newz reports the latest in the ongoing battles against an invading force of cruel lizard aggressors. Leading the charge in this low-budget sci-fi production are an amiably dim news anchor and a headstrong field reporter. Neither of them have a hair out of place…
…not even when real Big Stompy Robots come down from the skies, and Star Newz and their studio find themselves in need of desperate help from one of their biggest fans – The Doctor! As reality becomes stranger than fiction, the stakes get raised and soon a whole planet faces imminent destruction!
What shadowy secrets are locked away in a state-of-the-art production office?
What juicy role will star actress Connie London play in the ongoing adventures of The Doctor and Julia?
And at the end of the world, just what use are a tourist map and a smug canary?
Chapter Two: Plan D from Outer Space!
Last we left our heroes, the planet was under attack by a fleet of war-mongering lizards! As a giant robot sentry counts down the remaining hours until the end of the world, the Doctor, Julia, and Connie must devise a plan to save everyone, with a just little dash of cinematographic magic sprinkled in for fun.
CAST
The Doctor … K. Woo
Julia Shahid … Fazia Rizvi
Connie London … Valina Cutler
Brick Thrustjaw … Joe J. Thomas
Stroheimberg … Justin Fife
DAVE… Alan Gordon
Warlord Kruger … Kayla Gill
Newton … Lisa Michaud
Tech … Justin Fife
Extra …. Kyle Borcz
Agamidae Sentry … Vince Stadon
Written by K. Woo & Vince Stadon
Directed by Kyle Borcz
Music by Kevin MacLeod
Doctor Who logo by John Callaghan
Art by K. Woo
Many thanks to freesound.org
Afternoon Tea Adventures' Doctor Who series is a free, not-for-profit fan production and is in no way associated with the British Broadcasting Corporation. It was created as a celebration of the series, without intent to supersede or infringe on existing copyrights or intellectual property. Doctor Who, the TARDIS, and other registered sounds and concepts remain property of the BBC.